Customers are the lifeblood of any business enterprise. Enticing them to visit your physical or online store is vital to generating sales and market visibility. Most business owners invest in their stores' visual merchandising such as acrylic frames or brochure holders in promoting their products and services.
In today's digital age, brand managers seek unique approaches on how to effectively interact with their customers on a regular basis. By creating visually appealing brands in an overcrowded world, this helps them stand out and get the attention of their target consumers for their products and services.
While some retailers have made the shift towards digital signages, physical acrylic frames remain essential in strengthening direct interaction with buyers. Using advanced technology, retailers can advertise more efficiently while enjoying the benefits of enhancing the customer experience who visit their shops or online stores.
Enhancing Customer Experience with Acrylic Displays
Attract Customer Attention
Before you even think about enhancing the customer experience, you'll need to get those customers in the first place. Steve Jobs famously said: "People don't know what they want until you show it to them". Visual merchandising is vital to winning public attention.
A well-planned store's sign holders need to whisper, speak and scream to potential clients when competing with nearby stores, other competitors or even nothing at all. That's where acrylic displays come in. Having your main product front and center represented in all its visual glory for all to see gets people who:
are looking for your specific product,
have heard about your product somewhere they can't quite place, and
are just passing by, but strangely intrigued.
And acrylic is weather-resistant: a perfect option for displays inside or outside stores!

Customize Marketing Campaigns
Many retailers seek to employ acrylic stands or risers to provide customized and unique store interiors and window displays. This comes with good lighting, wide-walking store space, and friendly merchandisers who are willing to assist the customers.
Innovative visual merchandising is vital for the in-store experience. Using acrylic picture frames or signages can make browsing your store displays fun, interactive, and novel. The best displays keep customers feeling like every visit to your store is memorable and wondering what you'll think up next.
Highlight Products
Basic acrylic materials are clear and are excellent options instead of using glass, as glass materials usually have a green tint around their edges.
Acrylic is uniformly clear, colored or tinted on all sides. It can also be developed to have an etched, translucent, opaque, or mirrored finish. The special coatings are essential to ensure acrylic risers are resistant to potential glare, scratch or fog.
This is perfect for converting customers who tend to window-shop or are feeling anxious about directly inquiring. Instead of them going through the hassle of looking for store personnel who may/may not be busy with other customers, all you need to do is provide a rundown or write-up next to the display units.
Acrylic ensures it is viewable and legible from any angle to a larger number of would-be customers. It also makes for clearer pictures for when they decide to snap one for future decisions!
Improve Store Organization
Think about all the times you've fallen in line at fast-food places. In most cases, by the time you get to the front, you already know what you're getting or roughly how much you'll be paying.
Why? Because you've been reading through the menu up top and unconsciously moving past signs before you even get there!
Now you may not be running a fast food business; but peppering your store with information available at a glance enables a more efficient conversation between customers and store personnel.
Customers do not like being rushed into a decision but love fast transactions one they've decided. Do both. More efficient conversations translate to smoother and faster transactions, improving your store organization and leading to an all-around better customer experience.
Acrylic risers provide your public displays a professional and appealing appearance. Acrylic materials may use rods, sheets, tubes, and films that may take any shape. You can have a glass look by using a clear or translucent acrylic without the fear of its fragility or being heavyweight. Need to move your signs to be seen better? No problem!
And as acrylic materials are formed easily, the acrylic stands can be developed as brochure holders, cases, acrylic picture frames, wall mounts, stands, and racks. Customers will practically be able to recite your entire product stack by the time they speak with your reps!
Think Outside the Box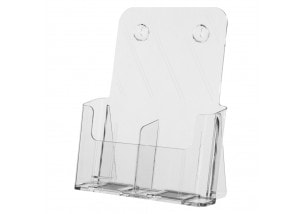 Few human innovations trump the inherent efficiency and usability of the modern-day box. It's easy to handle, easy to fill and easy to understand. For this reason, boxes and box shapes are a staple in home and office environments.
It's efficient but creates a concept of mundanity. Sometimes even stress. Your customers want to break free from the mundane and see something bombastic. And while they may want to buy a product in the form of a box, it doesn't mean they're wired to take information in from one.
That "box-stress" is the reason most phone manufacturers are desperately trying to move away from bezels. Less stress means a better customer experience.
With the inherent malleability feature of acrylic materials, you can think of other designs aside from boxes. Other non-box acrylic display designs are:
A 3D logo version mounted on the wall or developed into acrylic risers into block letters or cursive with your store's name being spelled out.
Eliminate a big red arrow by hanging the acrylic frames from the ceiling going to your sale area.
Design a free-standing colorized brochure holder that divides the departments.
Develop sign holders into stylish hangers and hooks.
Frame an acrylic poster or display on the wall.
With an acrylic stand's versatility, employ a customized design for the entire store's interior. Use acrylic for fixtures, displays, furniture, accessories, and signages.
Using all these strategies to attract customers to visit your shop and enhance their experience will surely translate to a purchase. For entrepreneurs seeking to have aesthetically and well-planned acrylic display holders, you can consult and check available various acrylic products at DisplaysandHolders.com!